COPYRIGHTED IMAGE
A Healthy Alternative, LLC © 200-2018 ALL RIGHTS RESERVED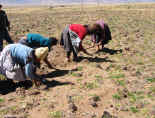 Maca is a hardy perennial plant cultivated high in the Andean Mountains at altitudes between 11,000 to 14,000 feet. It grows as a mat-like stem system. Maca leaves grow close to the ground and the plant produces a small self-fertile off-white flower typical to the mustard family, which it belongs to. The part we are interested in, is the pear-like tuberous root which is about 8cm in diameter and of a pale-white color. Although it is a perennial, it is reproduced by seeds
which require around 8-10 months for harvesting.
The habitat of Maca is the inhospitable land of the high Andes, where in fact nothing grows anymore. The land is exposed to intense sunlight, violent winds and a rough climate below freezing temperatures. conditions. Due to the rocky soil, and it's extreme weather conditions, this land belongs to the poorest and worst farmlands of the world, but over the course of time the Maca plant learned to grow under these conditions and possesses very substantial medicinal and nutritional value.
Archeological evidence has been found, that has shown that Maca was domesticated over 2000 years ago by the predecessors of the Incas and primitive cultivars of Maca were even found in places dating back to 1600 years before Christ.
For the indigenous inhabitants of the Andes, Maca is a vital and valuable nutritional food commodity. Because so little grows in this region, Maca is often used for trading against other staple food like beans. rice, corn and sugar. It had been used over the ages for its nutritious and medicinal advantages. Maca is rich in natural sugar, proteins, starches and important minerals, especially in iron and iodine. (see above)
Maca can be consumed fresh or dried. The fresh roots are considered a treat and are roasted over fire or in ashes similar to the preparation of the sweet potato (batata) Even a fermented drink chicha is prepared in some regions of Peru.
Imperial Gold Maca™ is available in capsules and raw powder. Read More About This Here