Chronic worry: It seems women in the United States and other countries have gone beyond resilience. just like men, women have accepted a tolerance for stress that has resulted in them becoming at risk for diseases, such as, heart disease and lung cancer. Their rate of hormonally related cancers (breast) is escalating rapidly.
Below are some alternative recommendations for these challenging health problems. This information is for educational purposes and is not intended to replace conventional medical care or to diagnose an illness.
It seems that women have just to much worry about especially at the point of life changes. Needing a desperate natural solution to this an herb appears that has been producing spectacular results that women have been relying on for many years. Even though it is still widely unknown by many, it is making enormous word of mouth progress in getting known.
<![if !vml]>
<![endif]>
In South America there is an herb that women have used for thousands of years to maintain their stamina, prevent fatigue, and reduce the effects of stress on their body. The herb is called Maca, (Lepidium peruvianum Chacon). The brand name is known as Imperial Gold Maca™ and is sold in more than 30 countries.
In Peru, women begin using Maca at age 3 to maintain fer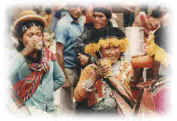 tility and hormonal health. They recognized long ago that their productive, but stressful lifestyle could be debilitating unless they used plants as medicine. These South American women remain fertile and productive well into late life. They are strong and have immense stamina. They do not experience menopause with all it's uncomfortable symptoms such as hot flashes, vaginal dryness, and memory problems
An herb such as Maca allows a woman to handle more of life without the same degree of stress taxing her endocrine system. See What Users Say and See What Doctors Say to your left.
However, there remains the responsibility that she recognize and eliminate unnecessary stressors in her life. She needs to take responsibility and develop a lifestyle that will allow her to achieve optimal health. Maca may restore the youthful shine to her skin, and increase her libido, but a healthy lifestyle will make that journey even better. The use of SuperFem can help the body become more hormonally balanced much quicker with the use of Imperial Gold Maca™ and should be taken daily to assure greater progress.
Imperial Gold Maca™ is not a hormone. Black Cohosh, and other plants do contain very weak hormones (phytoestrogen) and produce some relief but only temporarily . They usually do not make a woman feel better or more energized for very long. Imperial Gold Maca™ allows a woman to produce her own hormones naturally and safely. Women report feeling the effect of Imperial Gold Maca™ usually within 7-21 days. Imperial Gold Maca™ is ideal for women who have tried soy products and are not satisfied. To Read More About MACA Also find out about SuperFem a natural vitamin and mineral formulation that helps the body restore itself.
The best source of progesterone and estrogen is a womens own body. For the most part, nothing could be more natural, carry no risk of side effects, and be more user-friendly than your own hormones. This is one more of the million reasons why you should replenish yourself, and use safe, truly natural products like Maca that will enhance your own ability to produce natural hormones.
---
Why Women Reject Hormone Replacement Therapy
(excerpt for educational purposes only)
By Maida Taylor, MD, MPH,FACOG, Assistant Clinical Professor,Dept. Reproductive Sciences,University of California San Francisco.
Given a lack of consensus among health professionals and add a constant counterculture attack on conventional HRT, it is no wonder that only 10% to 25% of menopausal women take HRT. Of prescriptions written for HRT, only 50% are filled, and after 1 year, less than 40% of women who started HRT continue.
<![if !vml]>
<![endif]>
1. Fear

of malignancy: The most significant obstacle limiting the acceptance of HRT is an almost universal belief that hormones cause cancer. Starting with Barbara Seaman's two books, The Doctors' Case Against the Pill, and The Controversy in Women's Hormones, and persisting now with the publication of Dr. Susan Love's Hormone Book, women have been told that estrogen is the major reason for the increased incidence and prevalence of breast cancer in the past 25 years. Read "The Herbal Butterfly Newsletter" for a different perspective on the incidence and prevalence of breast cancer.
Women ages 40 to 60 years are far more fearful of disfigurement and disability than death. Breast cancer, the leading cause of cancer deaths in this age group, provokes images of a long, lingering death, full of pain and suffering which is prolonged by surgery, radiation and chemotherapy. While breast cancer is viewed with fear, heart disease seems relatively quick and easy.
2. Social Issues: By starting HRT, a woman commits to the medical management of menopause. Women worry about being hooked on estrogen and about becoming overly dependent on doctors. The growth of alternative therapies has become a popular alternative because women want to retain some control in the face of the uncontrollable ageing process.
3. Side Effects. Listed on package inserts should be carefully read to assure there are no harmful side effects.
4. Alternative and complementary practitioners appear to have a vast tableau of choices: nutrition, herbs, teas, foods, minerals, body therapy, meditations and more. Physicians seem to have only one limited offering - hormones.
Comprehensive Therapy. 23(8);514-32, 1997
---
<![if !vml]>
<![endif]>
Information on this site is provided for informational purposes and is not meant to substitute for the advice provided by your own physician or other medical professional. You should not use the information contained herein for diagnosing or treating a health problem or disease, or prescribing any medication. You should read carefully all product packaging. If you have or suspect that you have a medical problem, promptly contact your health care provider. Copyright and Disclaimer ©2000-2018 ImperialGoldMaca.com All rights reserved.

Information and statements regarding dietary supplements have not been evaluated by the Food and Drug Administration and are not intended to diagnose, treat, cure, or prevent any disease.