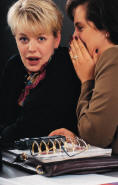 It is estimated that more than 55 million women are menopausal in the United States. Hundreds of years ago, most women did not live past menopause and experienced a great deal of pain and suffering without recourse.
Modern medicines have extended life expectancy by more than 30 years, but for many women, longer life can mean poor health and disability. The rate of hormonally related diseases, such as heart disease, lung and breast cancer are escalating, including the very uncomfortable symptoms experienced during menopause.

It is a known fact that South American women who have had MACA in their diet remain fertile, active, energetic and productive well into there later years. They experience immense stamina and do not encounter menopausal symptoms such as hot flashes, vaginal dryness, and memory problems.
1000's of women around the world have been using Imperial Gold Maca™, called The Peruvian Miracle™. Imperial Gold Maca™ has been known to reduce or eliminate hot flashes, vaginal dryness, fatigue, loss of libido and other menopausal symptoms that are dramatically lessened or eliminated with Imperial Gold Maca™ use. ORDER MACA NOW
<![if !vml]>
<![endif]>
Imperial Gold Maca™ adapts to the body's needs and supports menopausal health. It works through the hypothalamus and pituitary to bring about healthy, balanced hormone levels in the body. Black Cohosh, licorice root, don quai and soy products all contain weak plant hormones, (phytoestrogens). Many women cannot manage their symptoms with these herbs effectively. Yet women feel the effect of Imperial Gold Maca™ usually within several days to several weeks. The key to effective results is consistent use on a daily basis without missing days.

Imperial Gold Maca™ is not a hormone but a staple food herb that can be eaten as often as you would eat any nutritious vegetable like broccoli. Imperial Gold Maca™ allows a woman to produce her own hormones.
The best source of progesterone and estrogen is your own body. This species of Imperial Gold Maca™ enhances your body's production of these hormones. It is safe,100% organic and naturally grown without pesticides, artificial fertilizers or chemicals, producing wonderful results in your body naturally. Imperial Gold Maca™ (Lepidium peruvianum Chacon) is an all natural organic herb food that nourishes the body very effectively. Order Maca
<![if !vml]>

<![endif]>
Menopause is the permanent, natural cessation of menstruation. Menopause occurs when there has been no period for one year. Women usually experience it between the ages of 45 and 55, yet some experience it earlier or later.
With some women menopause comes on very suddenly; one period ends and there are no more. Other women experience irregular periods and cycles, occurring at intervals of three weeks to several months. This time is now commonly referred to as perimenopause and can last for years. As perimenopause advances, hormone levels drop and many women experience increased symptoms of hot flashes, fatigue, insomnia, mood swings, memory problems, vaginal dryness, urinary control problems and a host of other annoying symptoms. Imperial Gold Maca™ helps the body restore hormone balance.
<![if !vml]>

<![endif]>
At birth a woman's ovaries contain several hundred thousand eggs. During a woman's monthly cycle, up to 1,000 eggs mature. The pituitary gland releases a hormone which causes an egg to be released from the ovary and become available for fertilization. Together with this process estrogen and progesterone levels increase and decrease regularly.
In the late 30's, these hormone levels start to decline and the eggs may no longer be released with every cycle. Periods become irregular and menstrual flow may become lighter or heavier. By the fifties periods end with the ovaries producing smaller amounts of estrogen. The adrenal glands and fat cells also continue to make estrogen. Imperial Gold Maca™ boosts the body's ability to produce hormones naturally. Order Maca
<![if !vml]>
<![endif]>
Menopause symptoms such as hot flashes are believed to be the result of hormonal imbalance effects on the part of the brain that regulates body temperature and physiological balance. It appears that the body's temperatures are adjusted downward so that what was previously comfortable is now suddenly hot, causing flushing and perspiring. Hot flashes, fatigue and night sweats are symptoms of "hormonal imbalance," and are not necessarily a normal part of menopause and are extremely uncomfortable to experience .
<![if !vml]>

<![endif]>
Fear of Cancer: The most significant obstacle of Hormone Replacement Therapy (HRT) is an almost universal belief amongst women that hormones cause cancer. Women have been told that estrogen is the major reason for the increased incidence and prevalence of breast cancer in the past 25 years. Statistics show only 10 - 25% of menopausal women using HRT's. Read more about Estrogen.


Social Issues: Women today are demanding a larger role in managing their own health. The growth of alternative therapy has become very popular because women want to retain some form of control in the uncontrollable aging process of the body.


Dangerous Side Effects: Women are fearful and concerned with the serious warnings found on the side panels of products that show the effects listed as a required disclaimer for Hormone Replacement Therapy (HRT) products.


Alternative Health Care Offers Choices: Herbs, diet, nutrition, organic foods, mineral supplements, body work therapy, yoga, meditation and many more offer alternative health choices. Doctors are now re-thinking their methods and are joining the ranks of alternative health care professionals and many are using and recommending their patients to use Imperial Gold Maca™
The Safe Use of Herbs: Imperial Gold Maca™ is made from a unique species of plant that has been effective and free of any known side effects. You can order this organic all natural herb with full confidence, or read more about what doctors have said about Maca or what actual users have said in there testimonials. Order Maca


Information on this site is provided for informational purposes and is not meant to substitute for the advice provided by your own physician or other medical professional. You should not use the information contained herein for diagnosing or treating a health problem or disease, or prescribing any medication. You should read carefully all product packaging. If you have or suspect that you have a medical problem, promptly contact your health care provider. Copyright and Copyright © 2000-2018 ImperialGoldMaca.com All rights reserved.

Information and statements regarding dietary supplements have not been evaluated by the Food and Drug Administration and are not intended to diagnose, treat, cure, or prevent any disease.
Copyright © 2000 - 2018 ImperialGoldMaca.com All Rights Reserved.