A hormonal balancer/regulator
An adaptogen supporting the entire endocrine system, especially the adrenal glands, reducing the effects of stress on the body. Athletes and body builders use this herb for a greater edge on there activities.
This Book answers most questions about this herb food. Learn how Maca increases energy, balances hormones and enhances sexual function. for both men and women.
MACA - Native Food & Medicine of Peru - Adaptogen and Hormonal Regulator.
Author: Beth M. Ley, PhD.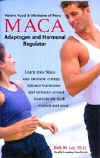 About Maca
Very Informative

$5.89