OUR GROWING FIELDS IN PERU
IMPERIAL GOLD MACA™ COMPOSITION

SEE MANUFACTURING FACILITIES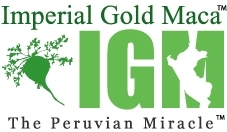 A Premium Grade Very High Quality
Maca Root That Is Potent In Every Way!
CERTIFIED ORGANIC, CERTIFIED KOSHER, CERTIFIED VEGAN
CLICK ON ANY IMAGE TO ENLARGE DIGITAL PICTURE TO FULL SCREEN
IGM Premium Roots

Acres of IGM

Freshly Picked IGM

Harvesting IGM

IGM Freshly Picked

IGM Farmers

IGM Hand Picked Premium Quality

Our IGM Farmers
and Partners In Peru

Freshly Seeded
IGM Crops

Carefully Choosing
IGM Roots

IGM By The Mile

La Molina University
CLICK HERE...IMPERIAL GOLD MACA™ COMPOSITION

Information on this site is provided for informational purposes and is not meant to substitute for the advice provided by your own physician or other medical professional. You should not use the information contained herein for diagnosing or treating a health problem or disease, or prescribing any medication. You should read carefully all product packaging. If you have or suspect that you have a medical problem, promptly contact your health care provider. All Images shown are the property of A Healthy Alternative, LLC and may not be used for any other website. Copyright and Disclaimer ©2000-2018 ImperialGoldMaca.com All rights reserved.
Information and statements regarding dietary supplements have not been evaluated by the Food and Drug Administration and are not intended to diagnose, treat, cure, or prevent any disease.
Copyright © 2000-2018 ImperialGoldMaca.com All Rights Reserved.